Webinar on "Non-Motorized Transportation"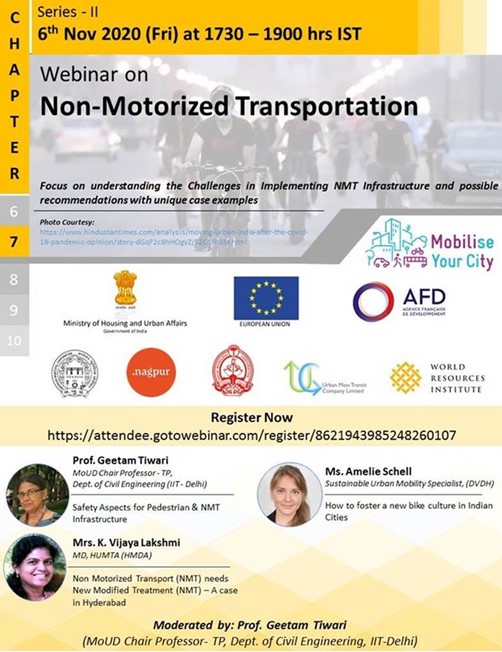 Following the success of the last 6 chapters of the second webinar series under Mobilise Your City Program (MYC) in India, UMTC &WRI are organizing the 7th Chapter, which will focus on the topic "Non-Motorized Transportation".
Non-Motorized Transport modes are considered to be the strongest and sustainable modes yet most neglected amongst all other modes. NMT includes mainly walking, cycling & cycle rickshaws. Most of Indian cities have at least 40% of NMT modal share however due to lack of dedicated Infrastructure there is a shift towards private transportation. Also, NMT is considered to be most vulnerable & unsafe due to existing Indian road conditions with higher accident rates annually. Promoting NMT & Improving its infrastructure facilities is considered to be one of the most cost-effective solutions with minimum intervention and this can also enhance the first & last-mile connectivity which improves PT ridership as well.
Join us on 6 November 2020 from 5:30 pm to 7:00 pm (IST).
Click here to register.