Webinar on "Impact on Public Transportation post COVID-19"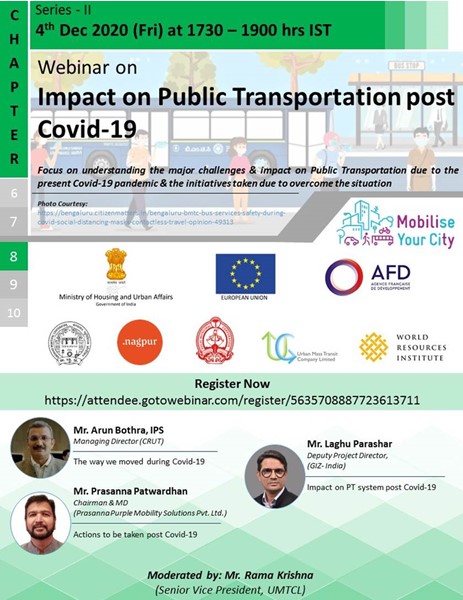 UMTC &WRI together are organizing the 8th chapter of their second webinar series. This chapter will dive into the subject "Impact on Public Transportation post-Covid-19".
Now a day's transportation is seen as one of the fastest-growing sectors in Infrastructure especially in the robust development of Public Transportation in the majority of Indian cities with new technologies with various funding mechanisms. However, due to the present Covid-19 pandemic situation, everything has come to a pause point with focus inclined towards the public health sector. Due to this, overall transportation operators & authorities had to incur major losses. Although at present, most of the services have resumed partially, there is a visible impact on these services due to this pandemic situation. However, when the situation stabilizes to the BAU scenario, it is very much important to understand how these systems can be sustainable for a longer duration. This session focuses on understanding the major impacts of transportation due to the Covid-19 and what are the possible recommendations taken to make them feasible.
The event is scheduled on 4th December 2020 from 5:30 pm to 7:00 pm (IST). Register here.