VACANCY | Join the team - MobiliseYourCity is looking for a Website Manager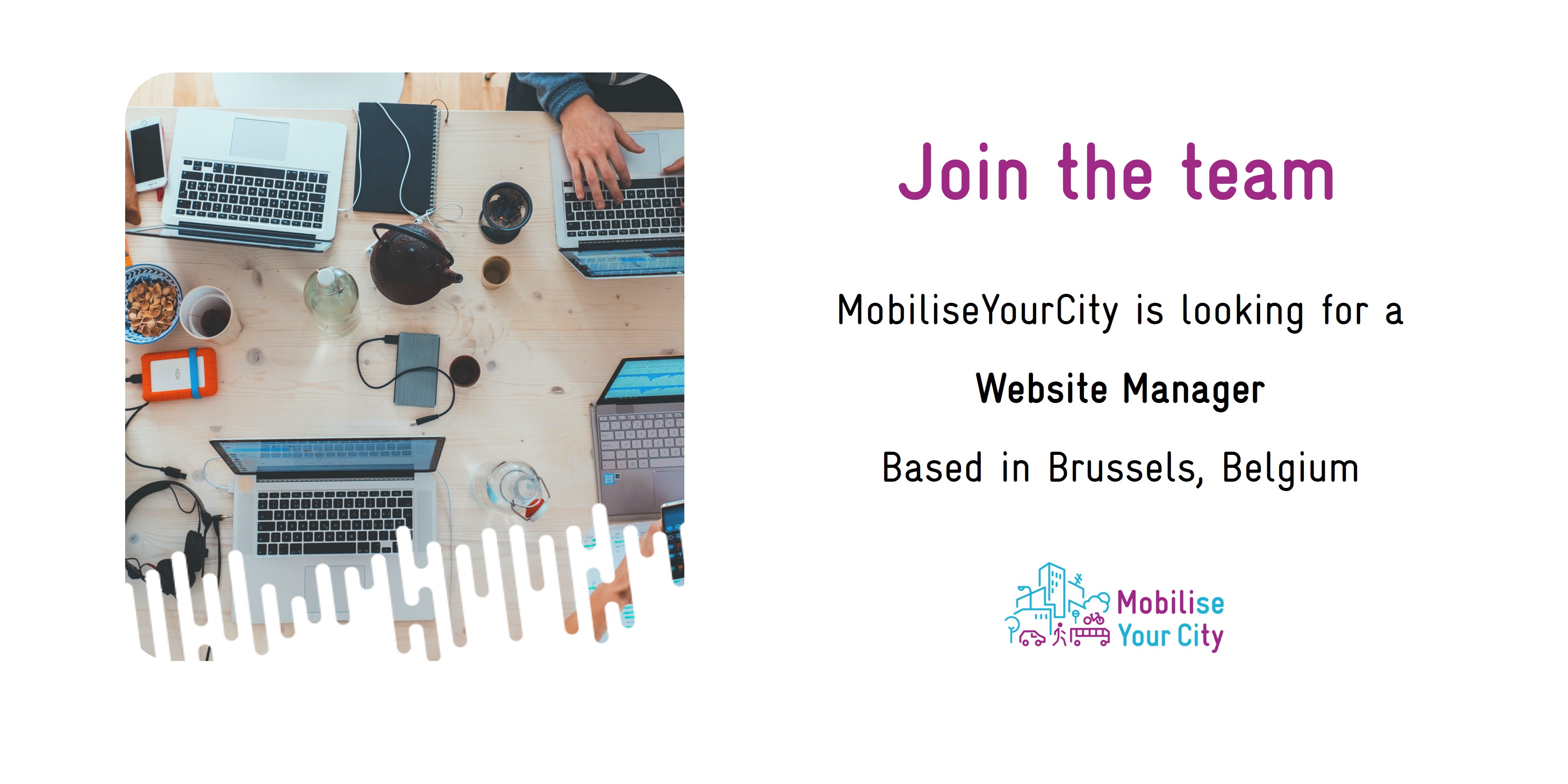 Context
MobiliseYourCity Partnership
Launched at COP21 in Paris, the MobiliseYourCity Partnership is a leading global Partnership for sustainable mobility of nearly 100 partners, including 65 city members and 15 country members.
Thanks to the generous contributions of the European Union, the Agence Française de Développement (AFD), the French Ministry of Ecological Transition (MTE), the German Federal Ministry for Economic Development and Cooperation (BMZ), the German Federal Ministry for the Environment, Nature Conservation, Nuclear Safety and Consumer Protection (BMUV), and the French Facility for Global Environment (FFEM), as of February 2021, our Implementing Partners have raised 40 million euros in grants to support 39 member cities and 9 member countries with technical assistance and project preparation.
The Partnership is implemented by AFD, GIZ, ADEME, Cerema, CODATU, EBRD, KFW, and Wuppertal Institute. Our Implementing Partners are working with cities and countries all over the world to develop scalable solutions to improve mobility in complex environments. We are a Partnership dedicated to enabling transformative change in urban mobility. By leveraging the unique core competencies of a wide range of organizations, we act as a knowledge hub and collaborate to generate solutions that exceed what we could do alone, helping make lasting positive change possible.
The Partnership mainly supports its city and country members by assisting in the preparation of Sustainable Urban Mobility Plans (SUMPs), National Urban Mobility Policies and Investment Programs (NUMPs), building capacities and engaging regional Communities of Practice through training, online platforms, peer-to-peer
exchanges, and events.
The MobiliseYourCity Secretariat consists of an international team of 10 people of which 5 are financed by AFD, and 5 by BMUV. The advertised position is financed by AFD.
MobiliseYourCity website
Launched in March 2020, MobiliseYourCity's website is an essential part of the services provided by the Partnership to its members and partners. It is the first and most important showcase of the Partnership. It gathers news and events about the Partnership, but also resources for mobility practitioners developed by
MobiliseYourCity's partners, as well as information on the actions taken throughout the Partnership's member cities and countries. MobiliseYourCity website was developed by the company Webnet under Drupal 8 software. In addition, Webnet is providing support to MobiliseYourCity Secretariat for the maintenance and light upgrade of the website. This support is ongoing.
Website manager position

Under the coordination of the Head of the Secretariat, the Website Manager will be in charge of a project to transform MobiliseYourCity's website into a learning platform for our member cities and countries. He/she will
coordinate with key partners to understand the needs and manage the relationship with the contractor implementing the changes on the website. The website manager will then animate and monitor the website, ensuring it is a dynamic platform serving our members and partners with up-to-date and easy-to-find resources.
We are looking for someone who will take ownership of the website and build on the existing infrastructure to make it as easy to use as possible by its various users and to ensure it serves its primary objectives:
providing information, knowledge resources, methodologies and trainings on sustainable
urban mobility (acting as a learning platform for our members),
capitalising on completed and ongoing work from the Partnership,
ensuring visibility of partners and actions,
communicating results to donors, and
reaching out to new partners.
The Website Manager will be based in the MobiliseYourCity Secretariat in Brussels and hired through CODATU. CODATU is one of the founding partners of MobiliseYourCity. It is a French association working in the Global South to promote sustainable mobility policies through training activities and scientific exchanges on urban and peri-urban mobility.
Mains tasks
Manage the transformation of the current website into a learning platform:
Identify the needs from city and country members and coordinate with the team members in charge of capacity development and key partners to plan and design the evolution of the website
Coordinate the development of a proposal with Webnet
Coordinate with key partners to agree on a proposal
Manage timely implementation of the proposal by Webnet
Manage and monitor the website:
Coordinate with the team and communications officer to implement daily requests (uploads, changes on the website banner, etc)
Moderate publications from partners: check newly published news articles and knowledge products daily to avoid undesirable content; evaluate the moderation procedures
Ensure that all content is consistently translated in MobiliseYourCity's three languages
(French, English, Spanish)
Ensure maintenance, updating and upgrading of the website, either making direct changes to the website or through the management of Webnet
Ensure that the website is protected by enabling the appropriate security measures
Ensure full compliance on the website with all laws and regulations
Keep up-to-date with industry best practices and monitor competitor websites
Define KPIs to report on the website's performance and produce monthly reports
Secondary tasks
The Website Manager will also contribute to the work of the Secretariat, including the organisation of events, outreach and communication, reporting, fundraising and strategy setting.
Requirements
A degree in computer science, business, communications, or a related field
2 years of work experience as a website or project manager. Work experience in an
international organisation is a plus
Experience seeing projects through the full life cycle
Strong interpersonal and time management skills
Proven ability to solve problems quickly and creatively
Great attention to detail with an analytical mind
Familiar with Content Management Systems, ideally Drupal
Proficiency in English. Knowledge of French and Spanish is a plus
Good content creation and writing skills are a major plus
Interest in sustainable urban mobility is a plus
Conditions of employment
Location: Brussels (partly home office at the moment)
Duration: one year with a possibility of extension
Starting date: As soon as possible
Qualification: At least 2 years' experience
Application: Please send your application via email to contact@mobiliseyourcity.net including
Cover Letter and CV in English
Deadline for application: July 11th, 2022
Salary: 28,500€ + 13th month bonus (junior/associate level) gross annual salary
Please note that a work permit valid in Belgium is required.
CODATU encourages qualified applications regardless of national origin, ethnicity, opinions or beliefs, gender, sexual orientation, health status or disability