JOIN THE TEAM | MobiliseYourCity is looking for a Communications Officer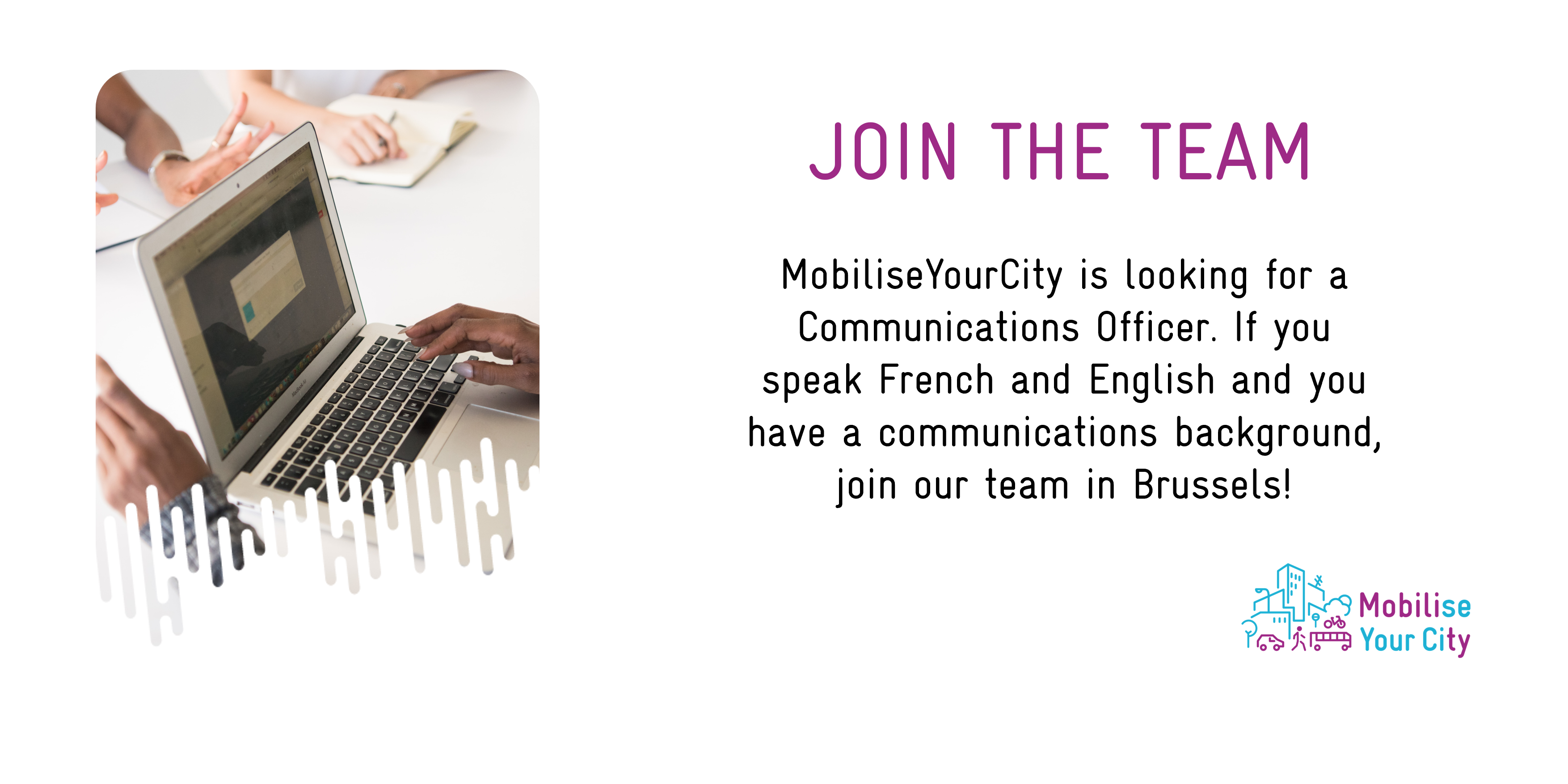 MobiliseYourCity is looking for a Communications Officer. If you speak French and English, have an interest in NGOs and are passionate about sustainability, you might be the person we are looking for.
Job description
Launched at COP21 in Paris, the MobiliseYourCity Partnership is a leading global Partnership for sustainable mobility of nearly 100 partners, including 70 city members and 15 country members.
Thanks to the generous contributions of the European Union, the Agence Française de Développement (AFD), the French Ministry of Ecological Transition (MTE), the German Federal Ministry for Economic Development and Cooperation (BMZ), the German Federal Ministry for the Environment, Nature Conservation, Nuclear Safety and Consumer Protection (BMUV), and the French Facility for Global Environment (FFEM), as of February 2023, our Implementing Partners have raised 40.7 million euros in grants to support 38 member cities and 8 member countries with technical assistance and project preparation.
The Partnership is implemented by AFD, GIZ, ADEME, Cerema, CODATU, EBRD, KFW, and Wuppertal Institute. Our Implementing Partners are working with cities and countries all over the world to develop scalable solutions to improve mobility in complex environments.
We are a Partnership dedicated to enabling transformative change in urban mobility. By leveraging the unique core competencies of a wide range of organisations, we act as a knowledge hub and collaborate to generate solutions that exceed what we could do alone, helping make lasting positive change possible.
The partnership mainly supports its city and country members by assisting in the preparation of Sustainable Urban Mobility Plans (SUMPs), National Urban Mobility Policies and Investment Programs (NUMPs), building capacities and engaging regional Communities of Practice through trainings, online platforms, peer-to-peer exchanges, and events. 
Your tasks:
Design and implement strategic campaigns translating MobiliseYourCity new vision and mission based on MobiliseYourCity target audience
Manage website content and design to ensure delivery of clear and creative content that serves the overall Partnership's objectives
Update the social media strategy for the MobiliseYourCity Partnership
Coordinate the editorial and translation work of the MobiliseYourCity quarterly newsletter in three languages
Coordinate the production and layout process of internal and external communication products
Lay out official documents following the MobiliseYourCity branding
Monitor and regularly report on MobiliseYourCity media performance
Support in the conception and editorial preparation of effective content for online and print communication products (website, social media, publications)
Support for the effective public presentation of the MobiliseYourCity brand
Support with translation and editorial work of knowledge products and other communication products, as needed
Support in the preparation and implementation of events including webinars, steering committee meetings and in-person trainings
Support with administrative tasks as needed, including contact management
Your profile:
You are a young professional graduated in event management, media, communication, environmental, political or social sciences or a related field with an interest in NGOs.
You have an interest in development policy and a basic understanding of the challenges facing the transport sector in emerging and developing countries and/or a passion for sustainability and a willingness to contribute to a fair future.
You have a high knowledge of social media, including social media managing tools (Hootsuite, Loomly or similar) and analytics tools.
You are able to implement creative ideas in an agile, fast and productive manner and work efficiently, solution-oriented and on your own responsibility.
You have organizational skills and enjoy supporting the preparation and implementation of events in new, digital formats with a hands-on mentality.
You have very good written and spoken French and English language skills (Spanish is an advantage).
You have a very good feeling for language and are skilled in writing and editing texts.
You are confident in using IT and are familiar with the usual office programs (especially Word, PowerPoint and Excel); mastery of image processing programmes such as Adobe Photoshop, InDesign and Illustrator is a real advantage.
Conditions of employment
Location: Brussels, Belgium (hybrid)
Duration: 1 year, starting in September 2023 with a possibility of extension
Qualification: At least 2 year experience and graduated in event management, media, communication, environmental, political or social sciences or a related field
Application deadline: 28 August 2023
Application: Please send your application via email to contact@mobiliseyourcity.net including your Cover Letter and CV in English
Starting date: as soon as possible
Please note that to apply for this position, you need a valid work permit to work in Belgium. People with disabilities are encouraged to apply.