JOIN THE TEAM | MobiliseYourCity is looking for a Climate Adaptation Expert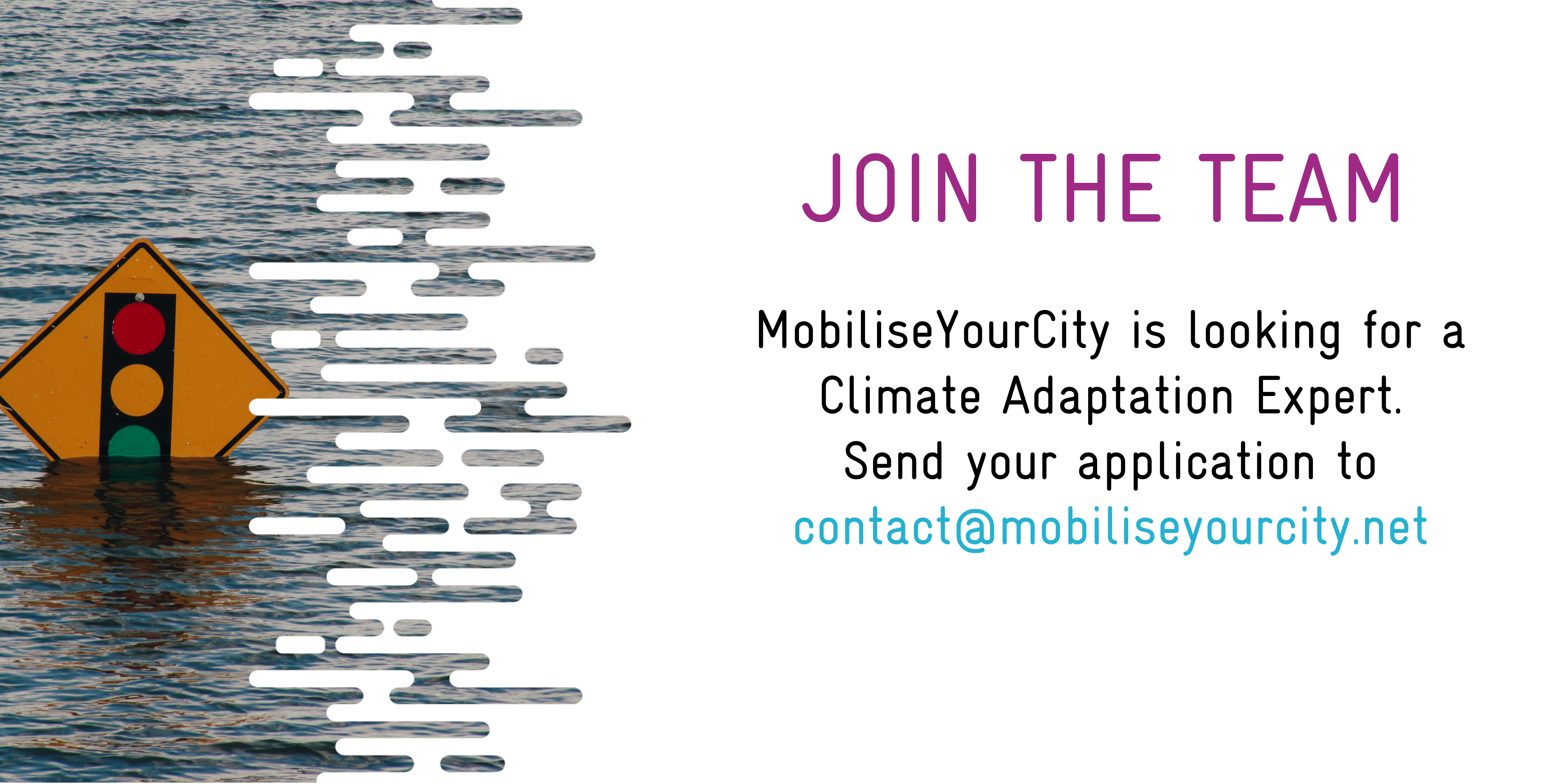 1. Context - The MobiliseYourCity Partnership
Launched at COP21 in Paris, the MobiliseYourCity Partnership is a leading global Partnership for sustainable mobility of nearly 100 partners, including 70 city and 15 country members.
The MobiliseYourCity Partnership is supported by the European Union, the French Ministry of Ecological Transition (MTE), the French Facility for Global Environment (FFEM), the German Federal Ministry for the Environment, Nature Conservation, Nuclear Safety and Consumer Protection (BMUV), the German Federal Ministry for Economic Cooperation and Development (BMZ), and the Agence Française de Développement (AFD) which are working in collaboration to enable positive global transformation.
The Partnership is supported by nine Implementing and Knowledge Partners led by AFD and GIZ. Our Implementing Partners are working with cities and countries all over the world to develop scalable solutions to improve mobility in complex environments. MobiliseYourCity supports cities and countries by assisting in the preparation of Sustainable Urban Mobility Plans (SUMPs), National Urban Mobility Policies and Investment Programs (NUMPs) building capacities and engaging regional Communities of Practice through trainings, online platforms, peer-to-peer exchanges, and events.
The MobiliseYourCity Secretariat consists of an international team of 6 people of which 4 are financed by AFD, 1 by the EU, and 1 by BMZ. The advertised position is funded by ADEME (the French Agency for Ecological Transition).
The Climate Adaptation expert will be based in the MobiliseYourCity Secretariat in Brussels and hired through CODATU under Belgian law. CODATU is one of the founding partners of MobiliseYourCity. It is a French association working in the Global South to promote sustainable mobility policies through training activities and scientific exchanges on urban and peri-urban mobility.
As the Climate Adaptation Expert, you will be in charge of strengthening the Partnership's methodological framework and capacity development services on the topic of climate change adaptation across the MobiliseYourCity service areas.
2. The Project – Inclusion of climate change adaptation into the MobiliseYourCity service areas
The Climate Adaptation Expert will implement the project entitled "Strengthening the integration of urban planning into multilateral international initiatives on adaptation to climate change through an approach combining mobility, transport and built environment."
The project will be funded by ADEME under the call Multilateral International Initiatives on Climate Change Adaptation (MICA 2022), and jointly implemented by Resallience and CODATU.
The objectives of the project from CODATU's side are:
Position climate change adaptation as a key topic to be addressed across the MobiliseYourCity Partnership service areas (mobility planning, capacity development, advocacy and implementation support).

Build capacities among sustainable urban mobility practitioners in the Global South in regard to climate change adaptation.

Advocate for the inclusion of climate adaptation analysis and actions in urban mobility initiatives worldwide.
3. The MobiliseYourCity Climate Adaptation Expert
Under the coordination of the Head of the Secretariat, The MobiliseYourCity Climate Adaptation Expert will be responsible for:
Developing methodological guidance and providing technical inputs on the intersection between climate change adaptation and urban mobility planning (75%-time dedication)

Managing the grant agreement between Resallience, CODATU and ADEME, including the coordination with Resallience (10%-time dedication)

Supporting cross-sector tasks related to the MobiliseYourCity Secretariat (15%-time dedication)
The Climate Adaptation Expert will be based in the MobiliseYourCity Secretariat in Brussels and hired through CODATU. The MobiliseYourCity Climate Adaptation Expert will develop methodological guidance on the intersection between climate change adaptation and urban mobility planning.
This guidance will strengthen the MobiliseYourCity methodological framework to better support our members and partners to include climate adaptation along the cycle of urban mobility planning in the Global South.
3.1 Main Tasks:
Technical tasks:
Reach out to experts, researchers, and practitioners on resilience and urban mobility to define climate change adaptation approaches to be included in urban policies at both local and national levels in the Global South. In addition, prepare and conduct workshops with these key partners to propose policy recommendations for urban mobility planning and decision-making.

Lead the development of a new MobiliseYourCity Topic Guide on Climate Change Adaptation and mainstream climate change adaptation into existing publications and methodological documents, identify gaps and create technical content accordingly.
Coordinate, prepare, or review the development of training materials, and deliver capacity development sessions at the global level.

Prepare communications materials to disseminate the capacity building offer both at the regional and global level.
Project management activities:
Manage the grant agreement between Resalliance, CODATU and ADEME in the framework of the project to ensure successful and timely achievement of project goals, milestones and final deliverables as well as producing reporting documents.

Maintain close, active relationships with the organisations involved in the project, including CODATU, ADEME, Resallience, and GlobalABC, and any other institutions working on climate change adaptation to coordinate the working group of the project.
Secretariat related activities:
Support the activities of the MobiliseYourCity Secretariat, including the organisation of events, outreach and communications, reporting, fundraising and strategy setting.

Take part in organisational activities of the MobiliseYourCity Secretariat related to team management and donor support.
3.2 Qualification and Skills
Master's degree related to climate change, disaster risk management, urban or regional planning, transport planning, environmental studies, or a closely related field.
Minimum 2 years of working experience in the field of climate adaptation policy. Experience in sustainable urban mobility in emerging economies is highly desirable.

Expertise in sustainable urban mobility planning in Africa, Asia, and Latin America is a plus.

Fluency in both English and French is required (spoken and written). Knowledge of Spanish is a plus.

Demonstrated ability to manage a project and deliver outputs on time.

Autonomy, proactivity, and the ability to effectively use information and data.
Ability to work in a multicultural team and with diverse high-level institutional partners.

Strong analytical, communication and interpersonal skills.
4. Conditions of employment
Location: Brussels

Duration: 12 months with a possibility of extension
Starting date: As soon as possible

Application: Please send your application via email to contact@mobiliseyourcity.net including Cover Letter and CV in English

Deadline for application: 15 September 2023

Salary: 33,000€-42,000€ (junior/associate level) gross annual salary depending on experience. The annual salary includes a 13th payment as well as the supplementary allowances.
Please note that a work permit valid in Belgium is required.
CODATU encourages qualified applications regardless of national origin, ethnicity, opinions or beliefs, gender, sexual orientation, health status or disability.