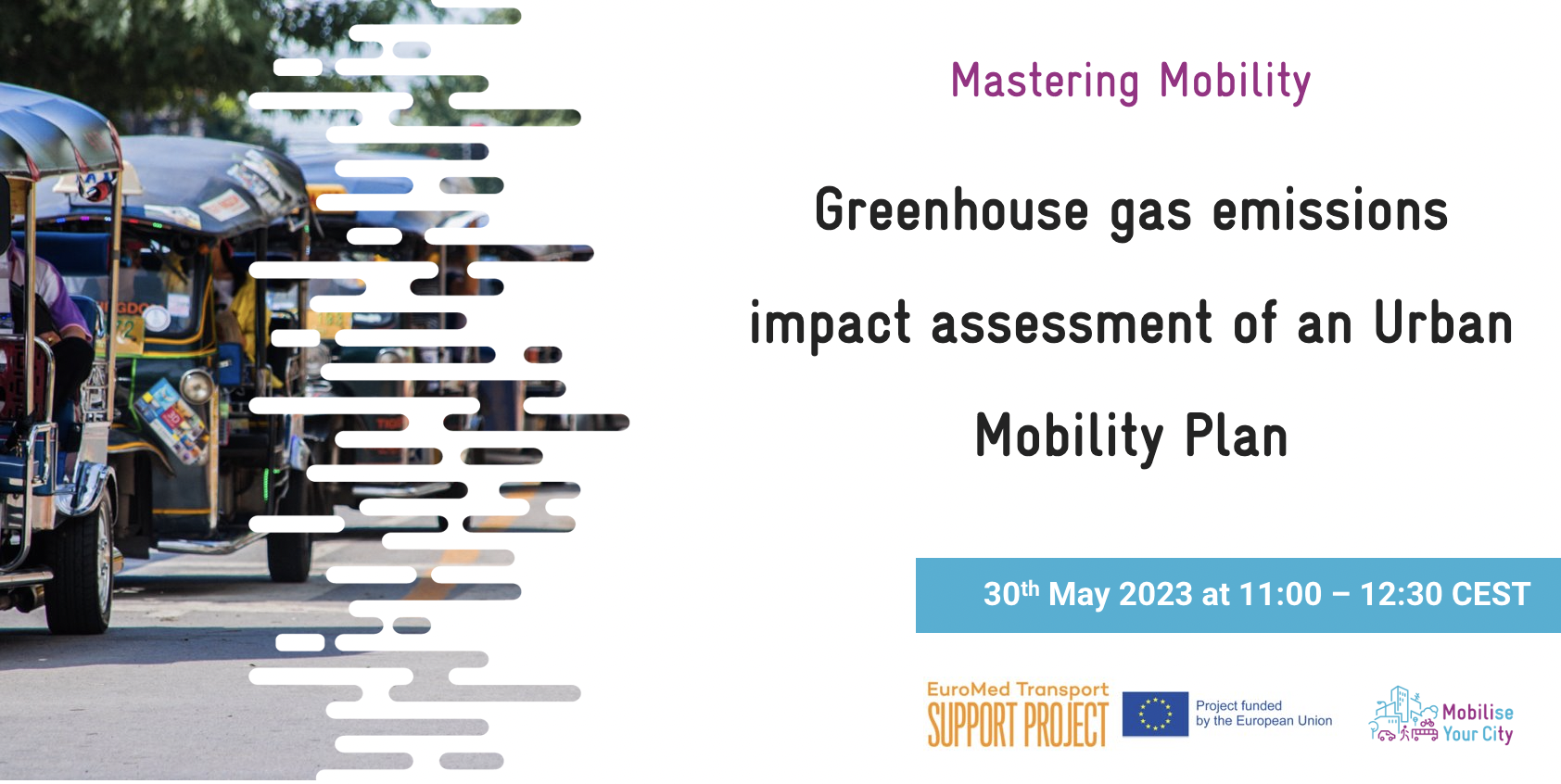 Greenhouse gas emissions impact assessment of an Urban Mobility Plan
May 30, 2023 11:00 – 12:30 (CEST) – Registration link
Description
Urban mobility is a key sector for climate change mitigation, given not only its current share of total global greenhouse gas (GHG) emissions, but also its increasing trend in the near future if adequate policies are not put in place. National Investment Programmes or National Urban Mobility Policies (NUPs) link the ambition of the Nationally Determined Contributions (NDCs) to appropriate local action on urban mobility by aligning efforts with international climate change commitments. Sustainable Urban Mobility Plans (SUMP) concretely define this link at the local level. Most cities are on an inevitable trajectory of increasing greenhouse gas emissions from urban transport due to population growth, economic activity and car ownership. However, the predicted impacts of SUMP show that their implementation could lead to significant reductions in GHG emissions.
This session will present the case of the territory of the Greater Sousse, Tunisia, an agglomeration that has prepared an Urban Mobility Plan to improve urban mobility conditions following the elaboration of the Tunisian NUMP. With technical assistance from the EuroMed Transport Support Project and MobiliseYourCity, the Greater Sousse agglomeration was able to assess the GHG emissions impact of its UDP considering several scenarios: a 2030 run-of-river scenario, a 2030 UDP scenario and a 2030 UDP scenario with electrification using the MobiliseYourCity emissions calculator. This webinar will explain the data needed to prepare such an assessment and the calculations made to estimate the GHG emissions impact of the Greater Sousse UDP. Some recommendations to align the UDP with the latest update of the Tunisian NDC will be provided during the session.
Training objectives :
Understand the importance of quantifying greenhouse gas emissions in urban mobility to assess the climate mitigation potential of transport transformation.
Identify the data needed to calculate GHG emissions from urban mobility and build forward-looking scenarios
Understand how to use the MobiliseYourCity emissions calculator to harmonise GHG mitigation efforts.
Speakers
Julien Allaire | Senior Urban Mobility non key Expert | Transitec – EUROMED-TSP
Emilie Ball | Junior Urban Mobility non Key Expert | Transitec – EUROMED-TSP
Nicolas Cruz Gonzalez | Sustainable Mobility Expert | MobiliseYourCity Secretariat
4. Agenda