Africa Sustainable Urban Mobility Course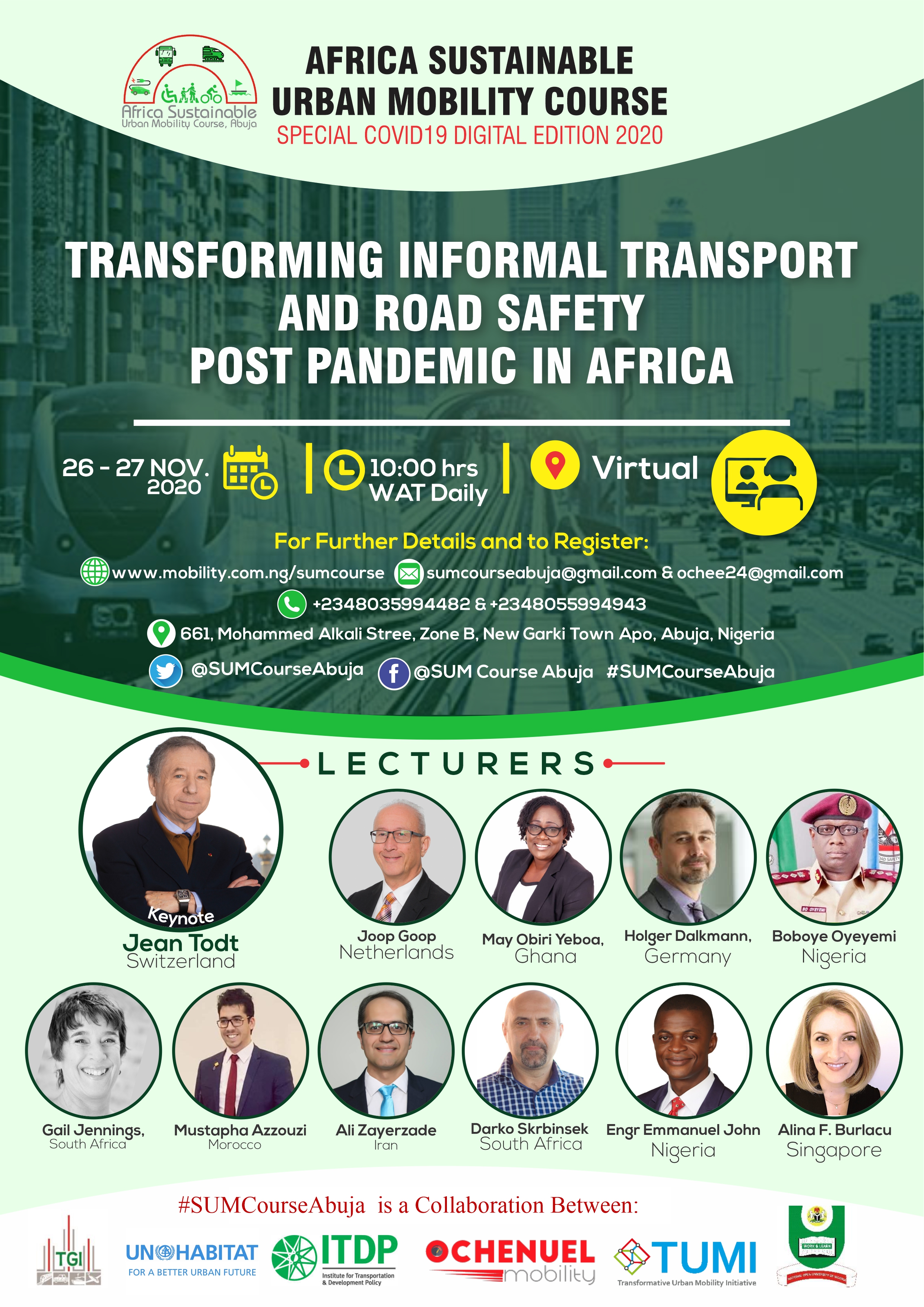 Don't miss the Africa Sustainable Urban Mobility Course, which will take place on 26th and 27th November 2020! The theme of this session will be: 'Transforming Informal Transport and Road Safety Post Pandemic in Africa'.
Preamble
The Africa Sustainable Urban Mobility Course is leading the development of human resource capacity in Africa through dedicated annual training programs and periodic short courses. In 2019, the course hosted 35 experts from 6 African countries and renowned global experts as resources persons in the city of Abuja. 2020, however, came with unique challenges occasioned by the Corona Virus Pandemic, the resultant pandemic management protocols necessitate that the weeklong Course is to be held virtually and in a shorter form.
Focus
The nature of transportation may have played a key role in the pandemic outcome in Africa, both in terms of the mobility system and road safety. The noticed gaps present a huge opportunity to transform from the largely informal transport systems to a more sustainable, equitable, safer and affordable urban mobility system in cities of Africa. Hence the course, drawing experts from across the world, will x-ray the issues, compare notes with some Asian countries and set an agenda for the post-pandemic urban mobility and road development.
Who should attend?
Decision-makers, regulators, researchers, academics, advocates, operators, students and all transport-related professionals and enthusiast who wish to gain knowledge to enhance the state of transportation in African and Asian cities are expected to take part in this free virtual course.
Opening session:
Introduction and Welcome

Overview of Transport Informality, Road Safety and the COVID19 Implications on Urban Mobility in Cities of Africa – Convenor
Keynote speech by Jean Todt, UN Secretary General's Special Envoy on Road Safety (to be confirmed).
Keynote speech by Senator Nicholas Tofowomo, Deputy Chair, Senate Committee on Land Transportation, Nigeria
Keynote Speech by Senator Gbemisola Saraki, Minister of State for Transportation, Nigeria (to be confirmed)
Day 1, 26TH November 2020: Transport Informality in Africa: Issues, Challenges and Opportunities in a COVID era
Topics/Presenters:
Capacity Gaps in Sustainable Urban Mobility and Implications for the Nature of Urban Transport and Road Safety in Africa,

Holger Dalkmann, UK High Volume Transport Program Advisor, Berlin Germany

Transforming Informal Public Transport System Towards Sustainability and Efficiency: The Johannesburg

BRT

Experience –

Darko Skrbinsek, Chief Executive Officer, FOT Consulting, Operators of Johannesburg BRT, South Africa

Key Highlights of the "A Quick Guide to Bus Sector Modernization": Quick Wins for African Cities

–

Chris Kost, Director, ITDP Africa, Nairobi Kenya

Bridging the women in transport gaps in Africa: Transformational steps towards achieving inclusive mobility post-pandemic –

Gail Jennings, Sustainable Transport Expert, Cape Town, South Africa.

The Imperatives for Policy and Regulatory Alignment Towards Urban Mobility Reform Post Pandemic in Africa –

Engr. Emmanuel John, Transportation Growth Initiative, Abuja Nigeria

Ongoing Efforts to Mainstream Cycling and Walking in Ethiopia and what impact on informal Transport? –

TBD, Adis Ababa, Ethiopia

Informal Transport Transformation in Cities of India: Best Practice Initiatives and the COVID19 Connection –

TBD,

CEPT University,

Ahmedabad Gujarat India
Day 2, 27TH November 2020: Achieving Global Road Safety Towards Vision Zero in Africa
Topics/Presenters:
Performance analysis of the UN Decade of Action on Road Safety 2011-2020 and the current road safety situation/efforts in Nigeria

– Dr Boboye Oyeyemi, Corps Marshal Federal Road Safety Corps, Nigeria

Using Motorcycles and Tricycles for Commercial Purposes in Urban Areas of Africa, to Ban their usage or to Keep them: A case study of Ghana

– Ing. (Mrs) May Obiri-Yeboa, Director-General, National Road Safety Authority, Ghana

The UN Decade of Action II: Lessons learned and the way forward for Saving Millions by 2030 –

Alina F. Burlacu, Senior Transport Specialist, World Bank Global Road Safety Facility, Singapore

Developing Road Safety Strategies at National and City Levels, a more people oriented approach -

Joop Goos, MSc, Director/Owner, GOOS Consultancy, Netherlands

The role of Stakeholders in achieving vision zero in LMICs -

Ali Zayerzade, Executive Director, Road Safety Pioneers, Tehran Iran

Infrastructure design reforms as panacea for transforming transport towards sustainable mobility and road safety for all –

Engr.

Prof. Hashim Abubakar, Transport Engineer, and lecturer, Bayero University, Kano.
Closing session
Recap and analysis of recommendations

Presentation of outcome