8 key messages from experts on how to shape net-zero cities with active and public transport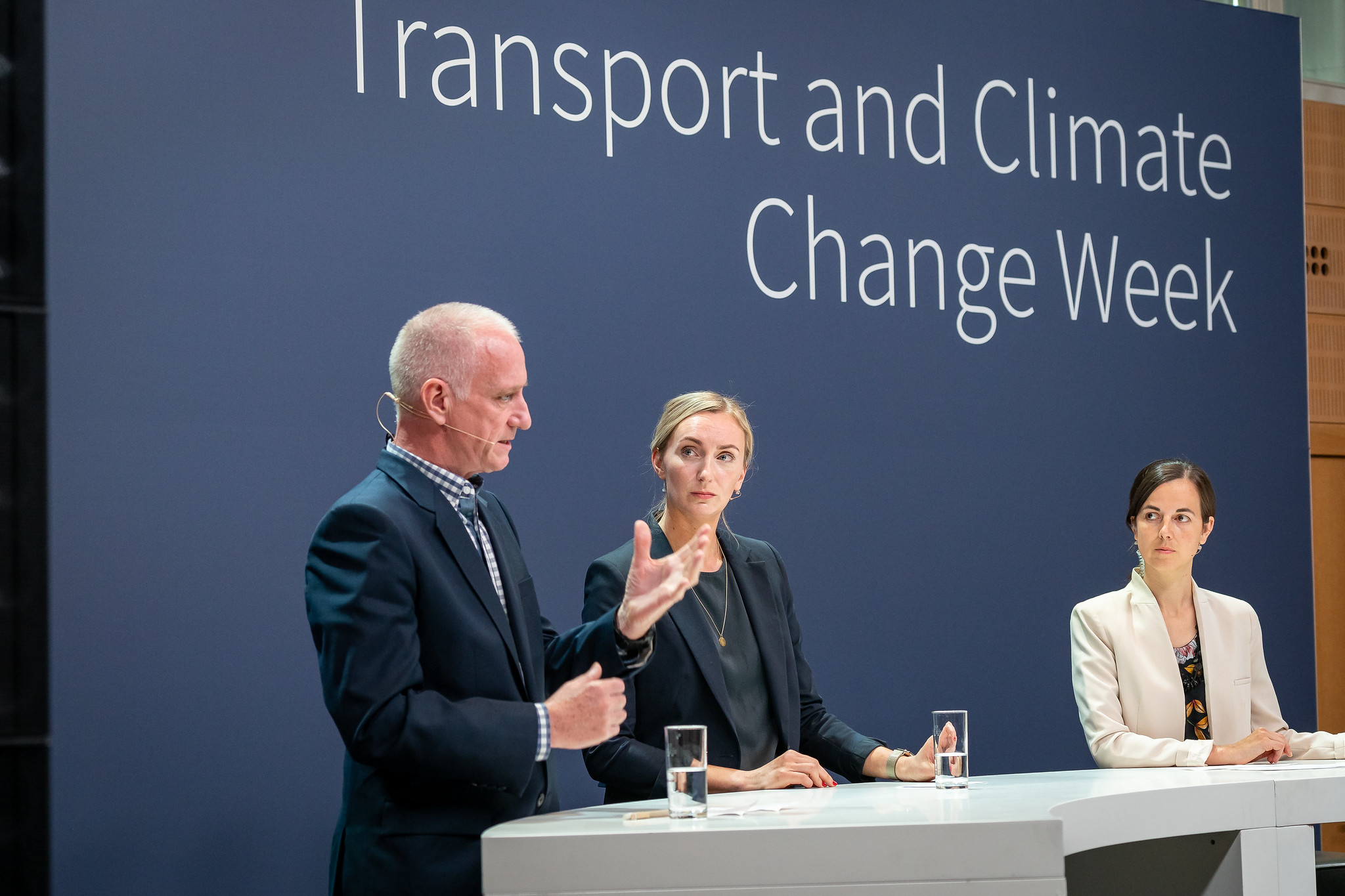 The main ingredients in urban mobility to achieving livable, inclusive, safe, and clean cities have remained unchanged for a hundred years: walking, cycling, and public transportation. Nonetheless, cities worldwide struggle to guarantee even the most basic conditions for these modes of transport to flourish. Paratransit services, often unsafe and polluting, constitute the main public transport offer throughout the Global South. Pedestrians are the number one victims of road accidents, and cities are still being planned with the private automobile as the centre of attention.
Cities and countries worldwide are reversing this harmful trend, by prioritizing active mobility and public transport in their policies and plans. And this is exactly what is needed to achieve a rapid transition to sustainable urban mobility. In her opening remarks, Dr. Heike Litzinger, BMZ's Head of Division of Urban Development, Mobility and Circular Economy, announced that the Ministry's joining MobiliseYourCity aligns with BMZ's priorities. By working side by side with the European Commission, the French Development Bank, and GIZ, European organizations can make sure that paratransit and active mobility are not only properly funded and integrated into decision-making and planning processes, but also that these modes of transport are designed for all citizens, by enhancing accessibility and employment opportunities for all citizens, especially women.
Here are 8 key messages from the experts and practitioners who discussed how to leverage these modes of transportation to shape net-zero cities during the Transport and Climate Change Week.
Paratransit is not only part of the problem. It is also part of the solution
Compared to past decades of (mostly) failed attempts at eradicating a poorly understood, and negatively perceived, sector, there is growing consensus among mobility practitioners about the social, economic and environmental importance of paratransit. In this vein, a common narrative articulated the discussion among the panellists, who themselves represented different views and organizations: paratransit needs to be better understood, reformed and integrated into the overall mobility systems of cities which simultaneously benefit from and struggle with these services.
TUMI's Transport Outlook 1.5°C, demonstrates the need to both double the share of public transport and phase out the internal combustion engine by 2030 in order to achieve the Paris Agreement's goal of keeping global temperature increase below 2°C. As Insa Illgen, Head of GIZ's TUMI Initiative, pointed out, paratransit represents the most important, if not the only, form of public transportation in a majority of cities in the Global South.
However, the need to rethink paratransit not only originates from the climate imperative. It also has significant economic and social implications, as millions of people depend on these services as their main mode of transportation, or as a source of employment.
Sustainable Urban Mobility Plans and digital technologies can help integrate paratransit and close the knowledge gap
However, there are still many challenges faced by mobility practitioners and public authorities when seeking to reform paratransit. The first and foremost is still the pervasive lack of proper understanding and data of these services, a major constraint to policy-making and sustainable mobility planning. To address these gaps, the European Commission, through MobiliseYourCity, is supporting the development of Sustainable Urban Mobility Plans (SUMPs) in Africa, Asia and Latin America.
As Giorgia Favero from EU DG International Partnerships explained, SUMPs contribute significantly to a better understanding of the mobility situation of a given city, as the planning method includes a comprehensive urban mobility diagnosis and engagement of paratransit operators. A better understanding of paratransit not only allows us to design the right reform and support measures. It also enables its integration into the overall sustainable urban mobility vision of the city and minimises potential resistance by operators – all key components of Sustainable Urban Mobility Plans.
Digital technologies are also helping to close the data gap. Digital mapping is becoming the industry's standard to map paratransit routes where traditional data collection methods have previously failed (see e.g. the work done by Trufi Association, Rider's Rights, Transport for Cairo, or WhereIsMyTransport). But they are also shedding light on the challenges faced by half of the population and the main public transport users: women.
As Insa Illgen pointed out, studies have found that 76% of informal transport workers in Kenya have experienced sexual harassment during work, and 70% of women in Egypt have been discouraged from using public transport because of safety concerns. Mobile applications like Safetipin can effectively and transparently monitor the quality and safety of paratransit services and thereby create political visibility of such important aspects such as accessibility and safety of women in urban mobility.
Paratransit modernization requires substantial financial support
A barrier constraining the electrification of paratransit is the lack of capital by operators, who cannot afford to invest in the modernization of their fleets. To address these challenges, the Asian Development Bank (ADB) has been supporting the acquisition of electric tricycles and less polluting buses throughout Asia, as James Leather, ADB's Chief of Transport Sector Group, explained.
Still, innovative financial instruments are needed to accelerate the lagging electrification process of paratransit services. These may include results-based lending and other instruments that especially facilitate the upfront investments, which still are higher for electric vehicles compared to internal combustion engines. Guarantees and traditional commercial loans can be provided to those operators who decide to transform their business models from fragmented operations to forming companies and formalising their business, a standard reform strategy that has been tested in multiple cities, such as Bogotá and Mexico City.
Paratransit can be integrated into mass transit services through new business models and e-payment
Indeed, this is what the city of Santo Domingo is currently doing. As Alexandra Cedeno, Sector Director of Dominican Republic's National Transport Institute, argued, after developing and adopting a SUMP with support from MobiliseYourCity, the city has started a formalisation process that intends to integrate paratransit services into the mass transit system, currently composed of two metro lines. To achieve this objective, paratransit operators are merging into companies that will be able to receive contracts to operate as feeder services and access traditional financial resources to modernise their fleets, such as guarantees and loans. An additional benefit of such a process will be the formalisation of the employment conditions of paratransit employees, especially drivers, who will enjoy legal contracts and a stable salary, thus eliminating the need to work long hours to make ends meet, one of the main sources of traffic accidents attributed to the precarious working conditions of the sector.
The next step towards integration in Santo Domingo, as Alexandra Cedeno explains, will be the implementation of a unified e-payment system. This payment model will both facilitate accessibility to public transportation to all citizens and provide transparency to the financial flows and revenue of the system's operators. Challenges still remain, however, such as cultural resistance by the population to a new way of paying for public transport, and resistance by paratransit operators, thus highlighting the importance of communication campaigns and participatory processes throughout the entire planning process.
The fastest and easiest way to decarbonise transport is to promote active mobility
Together with public transportation, walking and cycling represent the easiest and fastest way to decarbonise transport and simultaneously create more inclusive and liveable cities. As Dr. Heike Litzinger, BMZ's Head of Division of Urban Development, Mobility and Circular Economy, pointed out, over 50% of all urban trips are less than 10 km long – distances that can be easily travelled by foot, bicycle, public transport, or a combination of the three.
A good land-use plan is a good transport plan
One of the first steps towards designing cities that prioritise people, and not cars, is to plan exactly for these kinds of cities, not only by adopting and implementing SUMPs or dedicated plans for active mobility but also by developing robust land-use plans. Benjamin Welle, Director of Sustainable Mobility at the World Resources Institute, argued that a good land-use plan is also a good transport plan.
There is a dire need to let go of outdated land-use and transport planning practices that facilitate investments into large road infrastructure, the entire opposite of the kind of plans and investments that we need to create the conditions for more modern and sustainable concepts such as mixed-use spaces, street connectivity, the 15-minute city, and others.
Walking and cycling need dedicated plans and budgets by governments
The next step, as Benjamin pointed out, is simply to stop investing in large road infrastructure projects altogether. This, in turn, would free up public budgets that could be reoriented towards active mobility services and infrastructure.
Investments in active mobility infrastructure, especially street roads, fall commonly under the jurisdiction of local governments. Although there is a common perception that local public budgets that prioritize walking and cycling are either insufficient or virtually non-existent, we have seen that the right circumstances, coupled with political will, are usually enough to significantly ramp up efforts to build or re-purpose infrastructure for pedestrians and cyclists.
This was the case with the pandemic, during which multiple cities, such as Addis Ababa, Bogotá, Kigali or Washington D.C., greatly, but still temporarily, enlarged the preexisting cycling networks. The challenge is to make these improvements permanent and sustainable.
To prioritise investments in active mobility, Benjamin Welle argued, governments need to identify and allocate a share of the transport budget to these modes, as Ireland has recently done, by devoting 20% of the overall transport budget to walking and cycling.
International financial institutions can provide additional financial support to governments as well. Ian Jennings, Senior Urban Transport Specialist at EBRD, explained that large infrastructure projects, especially mass transit, are useful instruments to leverage additional investments into active mobility – a point shared by James Leather, who stated the importance of pedestrian connectivity to mass transit services. Nonetheless, Ian Jennings argued that there is still a need to explore additional financial instruments, beyond traditional investments, through which international and development organizations can support local governments to promote walking and cycling.
Improving and promoting active mobility goes hand in hand with disincentivising the use of private cars
But planning and investments are only part of the puzzle. These must be complemented by a dual push and pull strategy that promotes active mobility as attractive, safe, clean and inclusive modes of transport while simultaneously disincentivising the use of private cars.
This is exactly what is being done in Macedonia's capital, Skopje, as Marina Petrovska, shared. The city has been tackling this issue from several flanks. For instance, local authorities adopted a 5-year plan for improving cycling infrastructure and have until now built more than 50 km of bike lanes and purchased shared e-bikes and regular bikes. They are also raising awareness through communication campaigns, linking active mobility with other issues of relevance, such as air pollution and lack of urban space available, and implementing small-scale demonstration projects repurposing parking spaces, among others. The efforts of Skopje are bearing fruit, as the modal share of cycling increased to 4% from 1% during the last few years.
Watch the recording of this session here.
Download MobiliseYourCity's Paratransit Toolkit here.
Access MobiliseYourCity's and ITDP's training series on active mobility